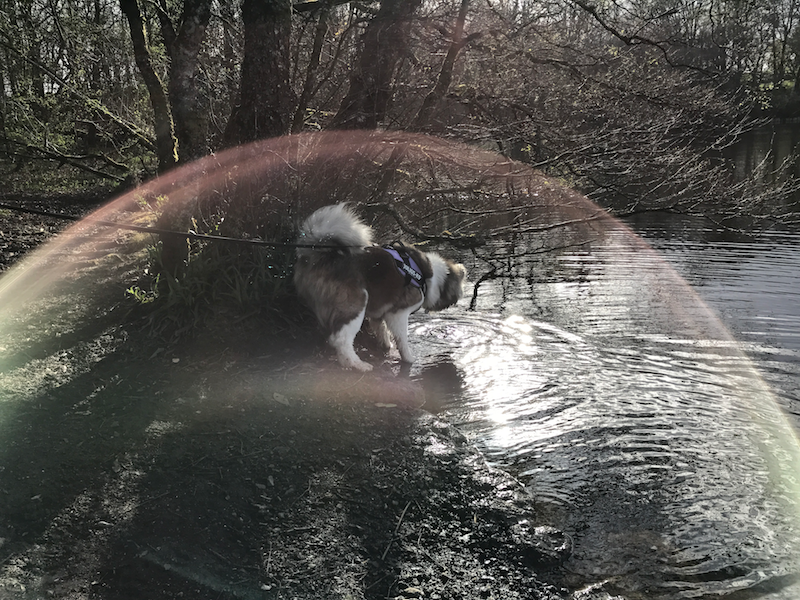 I used to wake up effectively mummified: two dogs on top of the duvet, on either side of my legs, penning me in. With Taji and now Habibi gone, that's not going to happen any more.
Ella realised something was Wrong yesterday morning, and she spent some time in places she normally wouldn't - under my desk, or at the back of the office where there's normally no room. She slept beside the bed when I took a nap that evening, even though (I'm guessing) she would have preferred to be outside in the garden. Did she think that Habibi had been guarding us, and now that Habibi was gone that that was now her job?
It's possible. Ella is unusually emotionally-sensitive for a dog: whenever I shout at the computer, I can expect her to be there within seconds, concerned that I'm upset. So I hug her, because I want her to be happy, and it turns out that hugging a big happy walking carpet is good for you as well, so we're both better-off.
There's a thing some people do as part of US Thanksgiving, I understand: where you go round the table and each person says "I'm thankful for thing, because reason". Well, losing Habibi was heart-breaking, but the saving grace was that we still had Ella. So we bundled her up into the car and took her on a good long walk around Mugdock Country Park, and for a while we all had a great time.
We couldn't have done that with Habibi, because she was ill and didn't want to go far. And chances are that Ella wouldn't have got to sniff and play with a number of the dogs we met even if Habibi had been in perfect health, because she'd have barked her head off and we'd have moved on quickly.
And when Berkeley was alive and I'd yell at the computer, he thought I was angry at him and would run away.
Now, simple is not better. Part of loving someone is accepting the baggage that comes with them; and you do this because it's their baggage. And it's going to be very strange tonight when Cleodhna takes Ella to Jessie's and the house has no animals in it for, quite possibly, the first time ever since we moved in.
Still: that Ella is, objectively, a superb and wonderful dog, makes things a little better.