It's not even December yet, but already the Christmas decorations are out on people's houses. In this year of Covid I'm less inclined to grumble than normal - let people get fleeting moments of joy when and where they can - but I do feel I need to point the avoidable error in some of the decorations this year.
Namely, the "Santa stop here" signs. Specifically, the ones that include a road traffic STOP sign.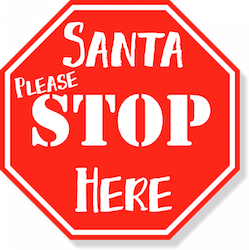 The immediate problem is that the novelty sign designers have betrayed an elementary misunderstanding of the Highway Code (and indeed its European counterparts). Circles give orders, triangles warn, rectangles inform; it's pretty clear. The sign should have been e.g. a Santa and reindeers parked on a roof as a white outline on a blue circle; or, possibly, a tourist information sign, depending on how uncertain you were that your children had been good this year.
But OK. We can chalk that up to (a) merchandise manufacturers not caring, (b) children not being sufficiently versed in the highway code to be well-informed consumers, or indeed that (c) the highway code itself says "there are a few exceptions to the shape and colour rules, to give certain signs greater prominence", and one of them is the standard STOP sign. Santa is important enough to get the same healthcare as the US President, so having his own personal sign isn't that big a deal.
No, the problem is that you've put a sign on a destination where it belongs on an intersection.
The standard STOP sign, after all, is designed to look different because its purpose it to say to a motorist: if you see this sign and don't do anything, you might well plow into traffic and die. Given the speeds Santa travels at so he can deliver presents to the entire world in one day, this is a pretty terrifying message to send. The implication is that while ordinary houses are just meat and potatoes to him, this one is home to e.g. the ride of the Valkyries, a cavalcade of witches from Walpurgisnacht, or some other huge high-volume highway full of supernatural creatures that would send Father Christmas's reindeers and sled flying if he blithely flew into it without taking precautions.
Or: "You better watch out".